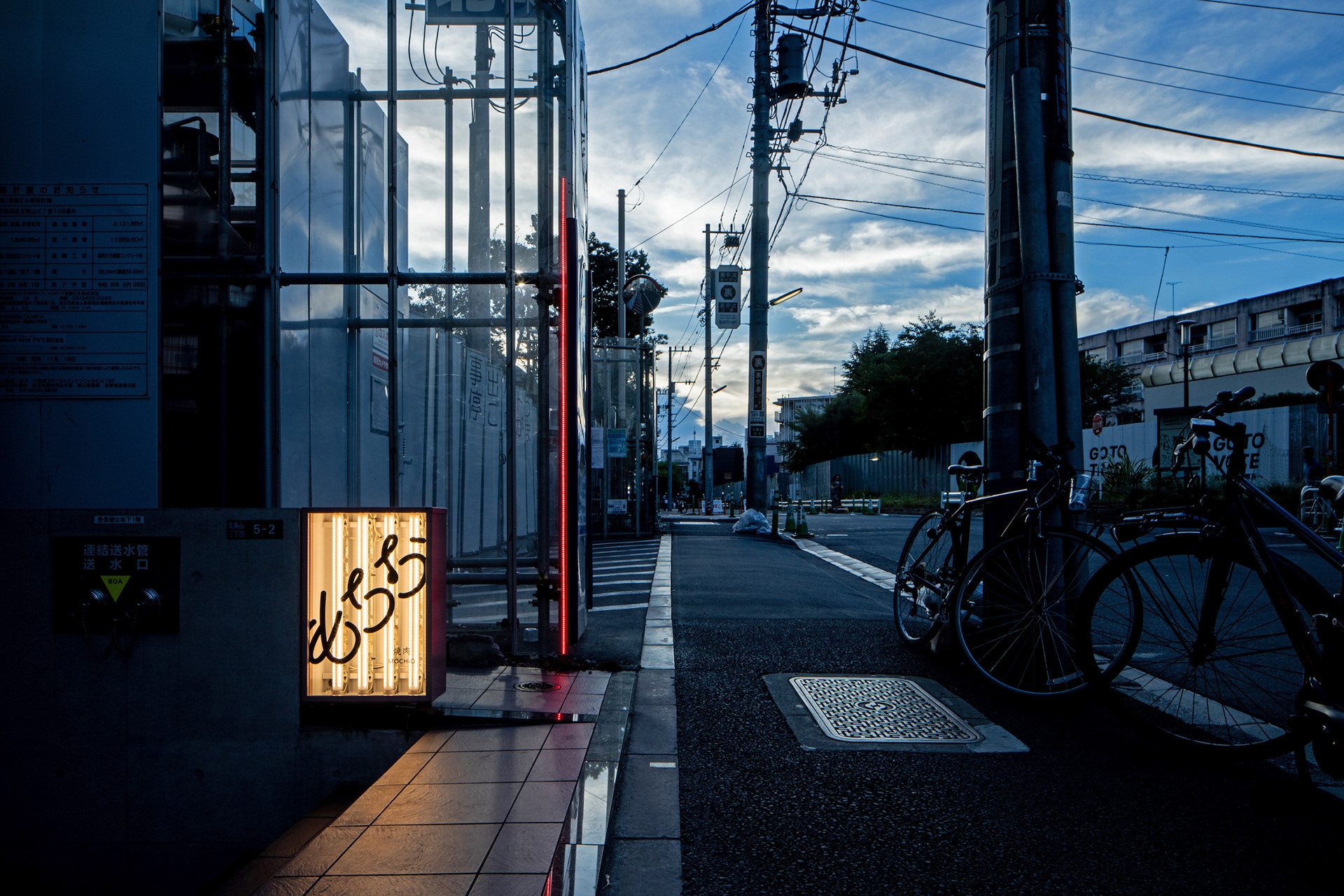 「焼肉もちお」は、以前手がけたイタリアンレストラン「malca」の新業態の焼肉店である。
「いたって大衆的、けれど最高のお肉を提供する」「もっと気軽に、ちゃんと美味しいお肉を」と掲げられたコピーライトを具象化し、表現していく作業となった。
そこで先ず、「大衆的」というキーワードから想起する "既存・素地・下地" の3つに表現方法を絞ってマテリアルを設定し、空間のコンセプトとした。既存の素地をそのまま活かしたコンクリート壁、グレーのプラスターボードにパテ下地のみで仕上げた間仕切り壁、そして軽鉄スタッド下地のみを一面に並べた壁。「大衆的」を表現する3つの要素で構成した。
軽鉄スタッド下地をそのまま並列して壁仕上げとする手法は近年目にすることが多いが、新たな見せ方の試みとして、すべてお店のブランドカラーに染め上げていくというひと手間を加えた。本来の用途では表現できない新たな素材の魅力を引き出すことにもつながった。鉄の鈍い輝きを表面に残しつつ、ブランドカラーに染め上げることで、無骨だがどこか艶めかしく美しい表情となる。それはしばしばお肉屋さんで目にする肉の塊に生命の力強い迫力を感じると共に、断面の繊細なサシの美しさに感嘆する、そんな瞬間の感情をなぞらえている。
このオリジナルなマテリアルは、「焼肉もちお」の「大衆的、けれど最高のお肉を提供する」というコンセプトを表す、
空間の顔となった。
また鉄の素地をキャンバスとして鮮やかなアートワークを施すことで、お店のコンセプトを強調しつつ、明確なブランディングを図っている。
近年建築材料のコストが高騰する中で、下地材でありローコスト、かつサステナブルといった利点を残しながらも一辺倒な見え方にならない、そんなブランドカラーや個性を表現できるマテリアルの可能性を探ることができたプロジェクトとなった。
​​​​​​​
Yakiniku Mochio is the new business venture from malca, the Italian restaurant that was our previous project.
The motto of this barbecue restaurant – "Local and casual, while also serving top-quality meat" – provided the basis of our design concept. 
First, in order to evoke a local vibe, we chose to work with what the space already had. There were three key elements here: exposed concrete walls, puttied grey plasterboards as divider walls, and walls lined with light steel stud framing.
Light steel stud framing left as is has become a popular wall finishing method in recent years; however, in seeking a new way to present the walls, this time we took an extra step and dyed the frames in the restaurant's brand colour. In doing so, the framing reveals a new charm that would not be expressed if it were left to function solely in its original use.
 Dying the frames whilst purposefully retaining the dullness of the metal helps give a raw but captivating nuance; the sense is evoked of being at a butcher shop and feeling the sheer force of life conveyed by the pieces of meat on display, while at the same time being awed by the beauty of the delicate marbling of the meat.
By utilising the raw metals as a canvas for art, as well as making use of the existing materials, we were able to reinforce Yakiniku Mochio's "local but high-quality" concept and branding.
 Amidst the ongoing inflation of the cost of construction materials, we not only took advantage of the affordability and sustainability of the base materials, but at the same time were able to overcome the limitations of the materials and avoid run-of-the-mill presentations. Ultimately, this was a project which focused on exploring the potential of the materials while seeking to embody the restaurant's character, and one which we are confident to say was realised successfully. 
​​​​​​​
Location: Minato-ku, Tokyo
Date of completion:  Aug. / 2023
Architects: KYOSEIMIKI DESIGN